Template documentation
(for the above template, sometimes hidden or invisible)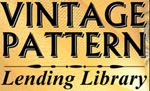 Welcome To The Vintage Pattern Lending Library's Archives
This wiki features information and images from the archives of The Vintage Pattern Lending Library, documenting the items held within the library's extensive archives.
The Vintage Pattern Lending Library's collection currently includes 5,000 commercial patterns, fashion journals, tailoring publications, needlework books, and much, much more.
-- A NOTE ON DATING -- The patterns are dated by a combination of research and "best guess". If you have information regarding a date for a pattern that is misplaced in the wrong era, please drop an email to the address below, so that it can be assigned correctly.
It is the goal of the Library to eventually have this Wiki contain images of every item within the archives. Queries regarding obtaining reproductions of the items on this Wiki should be directed to: vpll.librarian@gmail.com
Ad blocker interference detected!
Wikia is a free-to-use site that makes money from advertising. We have a modified experience for viewers using ad blockers

Wikia is not accessible if you've made further modifications. Remove the custom ad blocker rule(s) and the page will load as expected.