(Return To The 1910 - 1919 La Mode Illustree Index)
Contact Us If You Are Interested In Purchasing Copy Of Any Of These Patterns!
Patterns Featured In La Mode Illustree
March 29, 1914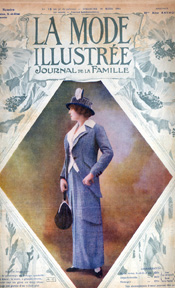 (cover)












































































Dress in Muslin




Dress For A Girl

Aged 12 to 14 Years




Dress For A Young

Girl

(left) (right)

Dress In Cotton Afternoon Dress


Ensemble For Walking

Dress With Tunic

Vest

Suit For A Young Boy

Aged 12 to 16 Years




Ladies Vestees
Return to The Vintage Pattern Lending Library Wiki Home Page
Ad blocker interference detected!
Wikia is a free-to-use site that makes money from advertising. We have a modified experience for viewers using ad blockers

Wikia is not accessible if you've made further modifications. Remove the custom ad blocker rule(s) and the page will load as expected.